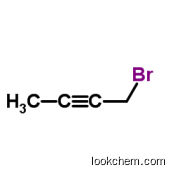 Keywords
CAS NO: 3355-28-0
1-bromobut-2-yne
1-bromobut-2-yne,99%
Quick Details
ProName: High quality 1-bromobut-2-yne CAS NO:3...
CasNo: 3355-28-0
Molecular Formula: C4H5Br
Appearance: Clear yellowish - green liquid
Application: Intermediate of lillaride
DeliveryTime: spot goods
PackAge: According to customer requirements
Port: Shanghai
ProductionCapacity: 500 Kilogram/Week
Purity: 99%
Storage: Room temperature, avoid light, sealed ...
Transportation: Air freight/shipping
LimitNum: 1 Gram
ProName: 1-bromobut-2-yne
CasNo: 3355-28-0
Molecular Formula: C4H5Br
Appearance: Clear yellowish - green liquid
purity: 99%
application: medical intermediate
storage condition: Room temperature, avoid light, sealed ...
Superiority
Coreychem is a chemical company. We aim to offer high products in low price. We have ten years of professional experience in this field. We have own professional team, so do not worry. We are high efficient. Our specialization, your Confidence ! We keep committing to meet the needs of both market and customers with our innovative technology, high stable quality products and excellent service. We always combine economic success with high sense of social responsibility and environmental protection. To meet the needs of customers, to enrich the value of all TNJ staff, to shoulder more and more social responsibility...these are our unremitting pursuit. We believe and are to make true Better Chemicals, Better Future!
We could give you:
1. Best quality with low price in your requirement
2. Competitive price in China market
3. experience for ten years
3. Mature Technical support
4. Professional team and logistic support
Details
产品名称:1-溴-2-丁炔
CAS: 3355-28-0
| | | | |
| --- | --- | --- | --- |
| 化合物英文学名 | 1-bromobut-2-yne | 化合物中文学名 | 1-溴-2-丁炔 |
| CAS号 | 3355-28-0 | 分子式 | C4H5Br |
| 分子量 | 132.986 | 精确质量 | 131.957 |
| LogP | 1.4046 | PSA | 0 |
| 外观与性状 | 透明淡黄色-绿色液体 | 折射率 | n20/D 1.508(lit.) |
| 储存条件 | Flammables area | 密度 | 1.519 g/mL at 25 °C(lit.) |
| 沸点 | 40-41 °C20 mm Hg(lit.) | 闪点 | 97 °F |
Henan CoreyChem Co., Ltd, is a high-tech joint-stock enterprise specializing in high-end customized chemicals.。CoreyChem facing global High-tech pharmaceutical raw materials, high complex new type intermediates, fine chemicals custom synthesis, scale-up production and Rare chemicals trade. Corey have well-equipped machine, strong technical force and considerate marketing team service. We also have rich experience advantage in basic research, small scale process development, scale-up, industrial technology development & production and cost control.
Our R&D center building area is 811 square meters, with 3 contributing proffesor of technical advisor, 4 Dr., 10 masters, and 28 research staff. Our level of chemical synthesis is known to the industry. So we have accumulated rich experience in synthetic methods design and exploring the synthesis of new technology. Not only we are good in heterocyclic chemistry, chiral chemistry (asymmetric synthesis and enzyme reactions), metal organic synthesis, high throughput chemistry, also specializes in bioorganic chemistry, including nucleosides, nucleotides, sugar chemistry, peptide chemistry. R & D center has many sets of 10 liters, 20 liters, 50 liters, 100L multifunction high and low pressure reaction still, rotary evaporator, anhydrous anaerobic reaction devices, hydrogenation equipment, cryogenic process (-120 degrees) equipment, to complete mg level custom synthesis and kg level process development experiments. The Existing 600M NMR, LCMS, Fourier Infrared Spectrometer, liquid chromatography, differentialscanning calorimetry, and other advanced detection equipment areto ensure quality and efficient completion of R&D projects. So far our completed custom synthesis products is more than 5300 species, where dozens of them are non-CAS declaration products, almost including all types of organic reactions.
Henan Coreychem co., LTD. is committed to provide cost effective chemical service to the global fine chemical industry product development agencies; we adhering to the consistent good commercial reputation, to create a highly efficient, high quality of chemical research, development, production, sales and service of integrated platform, let our customers faster, better get ideal and thoughtful service.