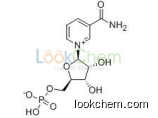 Keywords
1094-61-7
C11H15N2O8P
3-(aminocarbonyl)-1-(5-O-phosphonato-beta-D-ribofuranosyl)pyridinium
Quick Details
ProName: BETA-NICOTINAMIDE MONONUCLEOTIDE
CasNo: 1094-61-7
Molecular Formula: C11H15N2O8P
Appearance: White to off-white powder
Application: Steroid and Hormone,enzyme,Treatment f...
DeliveryTime: Within 3 days after payment
PackAge: foil aluminium bag/vacuum packing
Port: Chinese Main Port
ProductionCapacity: 110 Kilogram/Week
Purity: 98%
Storage: Keep in cool and dry place, store at 2...
Transportation: by air or by sea
LimitNum: 1 Kilogram
Storage temp.: 2-8°C
EINECS: 214-136-5
Superiority
Career Henan Chemical focus on high complex new type intermediates and fine chemical custom synthesis,scale-up production and rare chemicals. Product category including intermediates&api,catalyst and electronic chemicals.
We have our R&D team and can supply custom made service for chemicals , and keep good relationship with some pharmaceutical companies. Our synthesis level is well-known to the industry, the products are exported to US, France,Poland,Czech,Ukraine,Spain,Switzerland etc.
Details
BETA-NICOTINAMIDE MONONUCLEOTIDE Basic information
Product Name: BETA-NICOTINAMIDE MONONUCLEOTIDE0.3
Synonyms: BETA-NMN;BETA-NICOTINAMIDE MONONUCLEOTIDE;BETA-NICOTINAMIDE RIBOSE MONOPHOSPHATE;NMN;NICOTINAMIDE-1-IUM-1-BETA-D-RIBOFURANOSIDE 5'-PHOSPHATE;NICOTINAMIDE RIBOTIDE;NICOTINAMIDE MONONUCLEOTIDE;3-(aminocarbonyl)-1-(5-O-phosphonato-beta-D-ribofuranosyl)pyridinium
CAS: 1094-61-7
MF: C11H15N2O8P
MW: 334.22
EINECS: 214-136-5
Product Categories: Amines;Aromatics;Bases & Related Reagents;Intermediates & Fine Chemicals;Nicotine Derivatives;Nucleotides;Pharmaceuticals;nicotinamide mononucleotide
Mol File: 1094-61-7.mol
BETA-NICOTINAMIDE MONONUCLEOTIDE Structure
BETA-NICOTINAMIDE MONONUCLEOTIDE Chemical Properties
storage temp. 2-8°C
Merck 13,6697
InChIKey DAYLJWODMCOQEW-TURQNECASA-N
Safety Information
WGK Germany 3
F 8-10-21
MSDS Information
Provider Language
SigmaAldrich English
BETA-NICOTINAMIDE MONONUCLEOTIDE Usage And Synthesis
Chemical Properties White Solid
Uses A product of the extracellular Nicotinamide phosphoribosyltransferase (eNAMPT) reaction and a key NAD+ intermediate. It ameliorates glucose intolerance by restoring NAD+ levels in HFD-induced T2D mice . It also enhances hepatic insulin sensitivity and restores gene expression related to oxidative stress, inflammatory response, and circadian rhythm, partly through SIRT1 activation.